Perfect fit for high-volume and high-mix testing of PCBs
Meet the new JOT M12 Test Handler, a compact and comprehensive test handler that's perfect for high-volume and high-mix PCB production. With a capacity for up to 12 test boxes, the M12 is a major step up from our M5 Test Handler, making it the optimal solution for high-volume or high-mix production in a compact footprint.
The M12 Test Handler builds upon the key benefits of the M5, utilizing the same level of flexibility in PCB testing – especially when device size and speed matter. The M12 is a perfect fit for when product test times far exceed the target line tact time, for example with programming. Because of its modular design – the hallmark of all JOT products and solutions – the M12 is even more scalable than its smaller brother.
THE JOT M12 TEST HANDLER MAKES PRODUCTION EASIER
Extremely efficient footprint
Up to 12 test boxes and less than 0.25m² per test space.
quick-adjust ease in production
Quick and easy fixture inlet change for true zero-second setup time.
truly scaleable for growth
Reusable, application-specific test boxes that work fully independently offline too.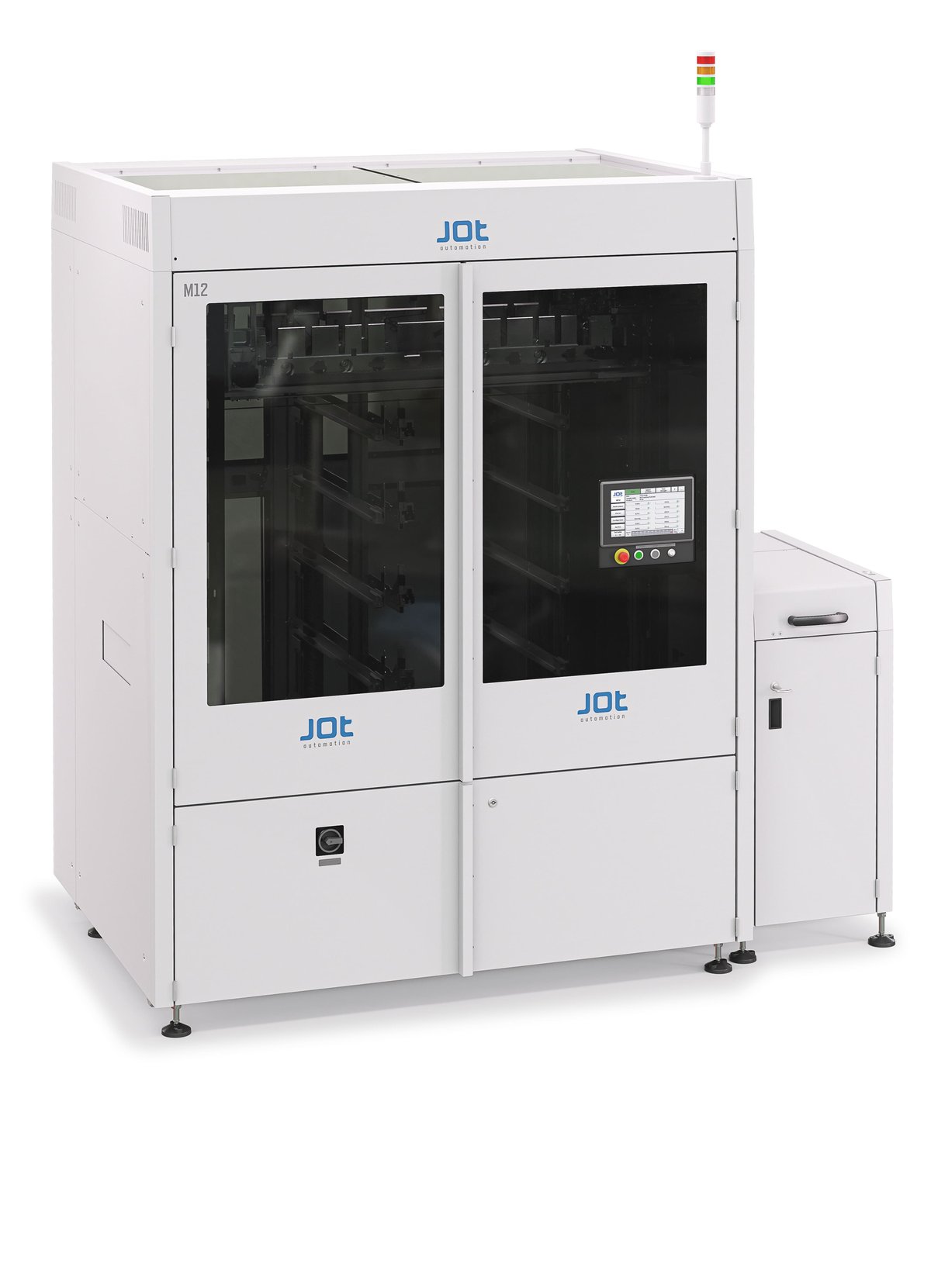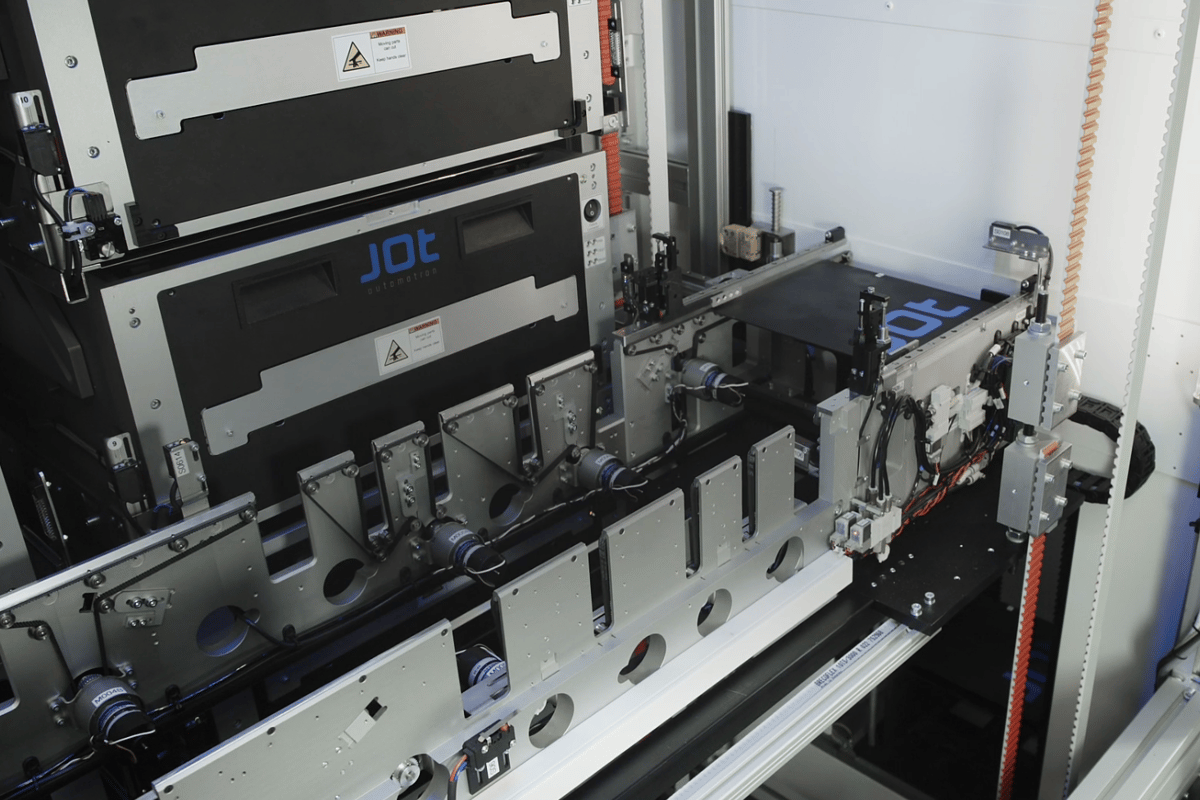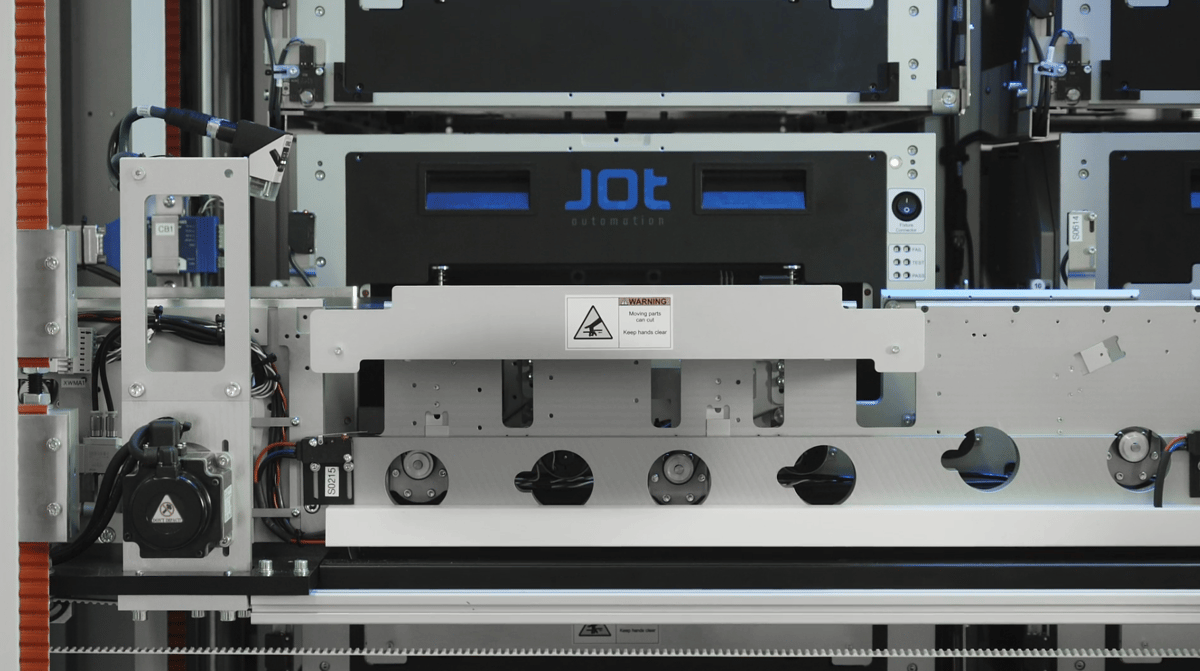 Maximal testing capacity. Minimal footprint design. Major production line win.
Utilizing the same M Test Boxes as the M1 and the M5, the M12 Test Handler is our most comprehensive, scalable, and compact solution for PCB test handling to date. With up to 12 test boxes equipped with different types of fixtures, the test handler is able to achieve a real zero-second setup time.
As with our other test handlers, the best advantage is achieved when test applications are created through embedding measurement devices inside the M Test Boxes. The M12 offers full interchangeability and independence when using manual test boxes, making the shift from prototype testing to fully automated inline testing effortless in an instant.
M12 Test Handler Highlights
Smart, cost-effective and compact way to automate PCB and pallet-based testing
Up to 12 test boxes
Extremely efficient footprint, down to 0.25m² per test space
Quick-adjust ease: no product-specific parts
Industry 4.0 autonomous interconnectivity
Truly scalable for growing test needs
Reusable, application-specific test boxes
M-TestBoxes compatible with M12 and M5 Test Handlers
Up to 12 test boxes
Boxes are fully independent, just pull them out from the M12 rack and use them in off-line testing
Fail product separation to the integrated magazine
Spacious service-friendly construction
Easy start-stop operability
Automated width adjustment
Max test box amount 12 pcs
Max 2 test phases in one handler
Automatic width adjustment
Pass-through mode
Max 50 saved product configurations
IPC SMEMA 9851
Basic statistics on UI
Three user levels
Serviceability supporting UI
Fail buffer
» Integrated on the handler outfeed side
» Capacity up to 30 products
Bypass conveyor when more than one M12 Test Handlers are in line
DUT identification
» Option for code reader integration


M12 Test Handler: programming line case study
DOWNLOAD PRODUCT DATASHEET
Learn more about the JOT M12 Test Handler that makes automated test handling easy. Click to download the datasheet for more detailed product specifications.
M - STANDS FOR MODULARITY
The core idea of the innovative M-TestSystem is to provide a testing solution that is easily adaptable to a variety of production requirements. Product handling is an important part of the M-TestSystem and it's specifically designed for system scalability. And because all application-specific features are housed inside each easily tailored M-TestBox, the nature of the test process may be adapted dramatically – simply by changing the box.
"The patented conveyor solution ensures fast and reliable product handling."