One of our recent customers presented us with the challenge of automating their assembly and testing lines for battery packs. The task at hand was a multifaceted process, as the testing and assembly process contained many phases and required a high level of accuracy, especially in testing, among other requirements. Let us break down the solution we provided for them.
Since our way of working has always been one of partnerships with pioneering industries and being at the forefront of technological innovation, we get a lot of requests to overhaul existing production lines into the modern age. Such was the case in a recent customer delivery, where we were asked to overhaul their battery pack assembly and testing lines. The customer in question is a leading global energy solutions manufacturer that provides multiple solutions for the battery and renewable energy industry.
In short, the customer's requirements were to:
automate the assembly and testing of battery packs completely
ensure high throughput and profitability with a fast line cycle time
ensure high-quality production with high traceability and quality verification
As battery packs are complex designs built from large amounts of individual battery cells and modules, the new automated process we were tasked with creating was required to cover many steps that currently are manually handled. As luck would have it, automated processes are perfectly suited for covering both simple and complex series of tasks but with the added benefits of increased accuracy, speed and consistency.
What we did to help our customer
Simply put, our solution was to fully automate the customer's production line for energy storage battery pack assembly and testing. The production line included
incoming material handling
recycling and sorting
electrical testing of prismatic battery cells
laser applications, such as welding and marking
assembly of parts
final product testing
The reason our customer turned to us for help was our vast experience and technical application capabilities. Our track record in the industry convinced them to proceed with the project with us as the chosen supplier.
With our solutions, our customer was able to improve both their production throughput and quality, in addition to which they ensured safety standards are met – which are key aspects in energy storage and battery production. We'll go a bit more into the details next.
The challenge – AUtomate battery and battery pack testing and assembly
Our customer wanted to fully automate their battery and battery pack production line all the way from testing to assembly. From beginning to end, the production line included several steps, many of which require high-level speeds, consistency and accuracy – all of which are a given in most automation projects, and all of which are hallmark features of JOT's automation solutions.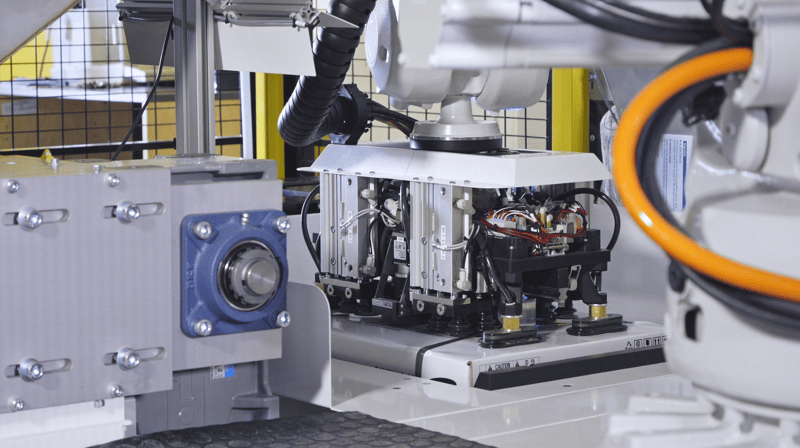 The customer's production line starts with incoming material handling, including recycling of packaging materials. Further down the line there are steps such as electrical testing, assembly for different parts, laser marking of parts as well as intricate laser welding, ending with end-product testing applications. Some of these steps are outside the scope of standard automation processes, and require complex technical solutions to manage.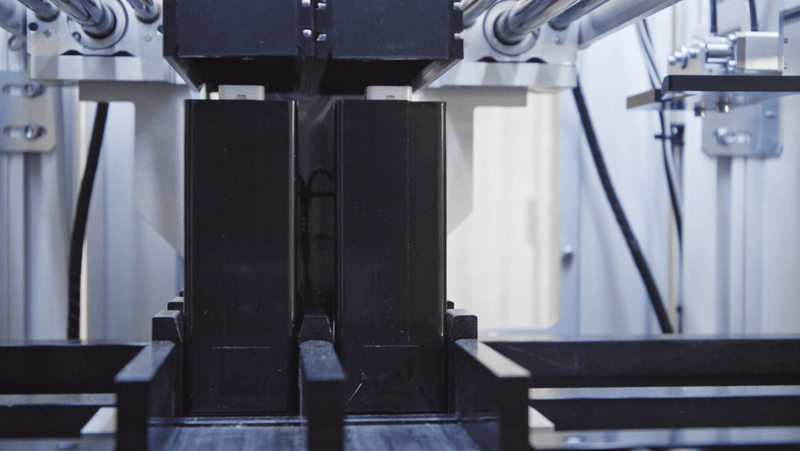 As you can imagine, the intricacies and multi-faceted requirements in manufacturing of this caliber make manual production both cumbersome, ineffective and thus unprofitable. The high rate of repetitions, poor ergonomic conditions due to moving heavy parts around and the need for high accuracy and consistency in testing amount to lower performance in manual production. Not to mention the floor space required for building a manual production line around these tasks, making the production line inefficient and space-consuming.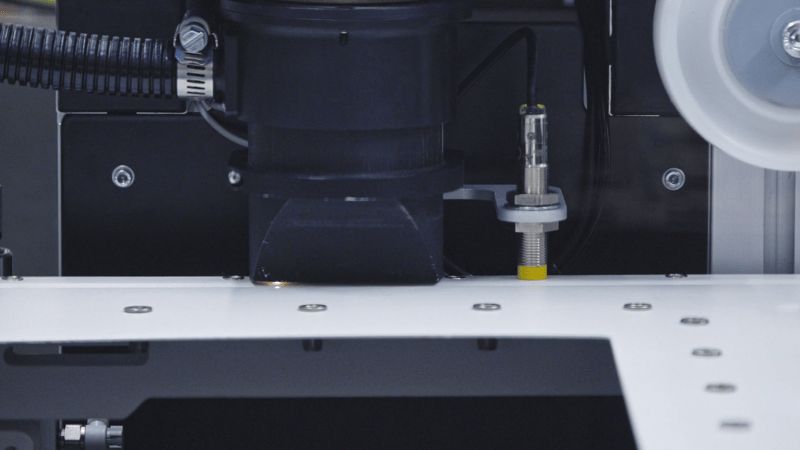 The question – how much can be benefitted from automation?
Our customer came to us with the question and task of figuring out just how much can automation improve and provide benefits to their production. Our answer was a complete turnkey automation solution for their manufacturing line, which tackles even those tasks that fall outside standard automation solutions.
The solution – custom turnkey automation
Having weighed all the asks and challenges the task at hand included, we began solving our customer's problem. The solution we offered included built-in sorting and recycling of incoming packaging material, through handling and testing of batteries to automated screw insertion and laser applications.
All in all, our solution was a revolution on the existing production line. The solution also improved overall safety with automated fire extinguishing systems with built-in temperature and gas sensors for ensuring the solution provided can detect any anomalies and hazards that would not even be detectable with human senses, further improving safe production conditions.
The solution – which we delivered within 12 months of ordering from us – is built on modular, highly flexible and scalable design platforms, something which are hallmarks of JOT Automation's solutions. The decision was based on ensuring our customer can customize their production based on current needs and product variation, even going as far as being able to introduce new applications when required.
The modular design thinking also improves the customer's bottom line: they are able to achieve greater cost-efficiency with flexible platforms when extending or supplementing the existing production line while also ensuring the factory footprint is minimal. In the end, this is what our customer had to say:
"As manufacturing of energy storage and battery solutions increase over the next few years, it is also becoming more and more complex. That is why we selected a supplier that can not only drastically improve our productivity and cost-efficiency, but can also be flexible and forward-looking. Thanks to JOT's solution, we have been able to improve our throughput by 6X initially, ultimately up to 12X, and also improved the safety and well-being of our operators significantly."
If you want us to provide you with a custom turnkey automation solution, we're happy to help. Just get in touch!